The MOTOMAN AR Series Robots provide outstanding speed and accuracy for all kinds of demanding arc welding and thermal cutting applications, supporting all kinds of welding and cutting methods and equipment.
With a full range portfolio of working ranges between 700 and 3,124 mm reach, often in combination with our positioners, tracks, and gantries, AR Series Robots can weld any kind or dimension of workpieces.
The MOTOMAN GA robot is an highly accurate robot model for high-precision laser applications such as laser cutting, (remote) laser welding or cladding.
Due to high payload, the robot can manipulate even large laser heads with excellent performance – circles, curves and linear paths.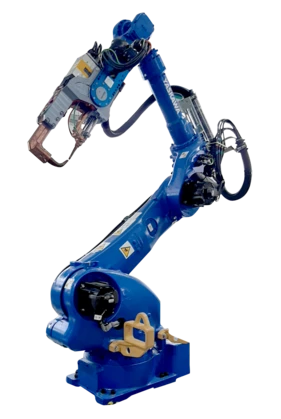 The MOTOMAN SP Series are highly flexible and powerful spot welding robots, which are also suitable for handling applications. Their slim design enables a small footprint, allowing them to be positioned in confined spaces, and impresses with a higher maximum motion range.
With payloads from 80 to 250 kg, the MOTOMAN SP Series is ideal for a wide range of common spot-welding guns and technologies, including in particular servo-controlled welding guns with robotic gun balancing.