Siegmund Workstations
Benefit from the versatility – When working with wood or metals the Workstation offers maximum versatility to expand all ideas and projects. Even tools can be stored in the heavy duty steel drawers below.
Dirt protection
Two sheets below the table plate protect your tools from weld spatter and dirt. For cleaning, you can pull out both sheets like drawers.

Legs
The combined leg and optional castor give mobility to the Siegmund Workstation. Base plates have fine adjustment to enable a precise work surface. (Caster optional)

Bearing load
The Siegmund Workstation with base plate bears a total weight of approx. 1.000 kg. Please note when using the castors, the load capacity is reduced to approx. 400 kg.

Maximum storage
The Siegmund Workstation features defined storage for tooling and accessories that can be shelved for easy reach. You can customize, build or retrofit your Workstation with drawers at various heights to increase storage capability. Here you will find space for any type of tool. Upgrading is possible at any time. 600 mm space for drawers on the left and on the right side.

Various work surfaces
Boreholes: Ø 16 mm, Ø 22 mm or Ø 28 mm
Premium steel S355J2+N
Premium steel S355J2+N + Plasma nitration
Tool Steel
Tool Steel + Plasma nitration
Stainless Steel

Available in
System 16
System 22
System 28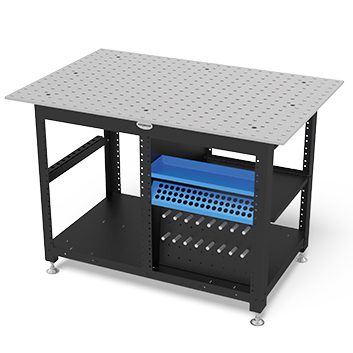 System 16
Through-hardened tool steel X8.7
Specifications
Boreholes on the surface 50×50 mm grid
Material thickness approx. 12 mm
Weight work top:
approx. 88 kg