The Siegmund Roto-Positioner is ideal for welding, assembly, and maintenance tasks. It has an infinitely adjustable vertical height adjustment with hydraulic rotary and tilt functions.
Available in different sizes with load capacities of 1250 kg, 2000 kg, 3000 kg, and 4500 kg. Custom sizes are available on request.
The Siegmund Roto Positioner offers you a flexible working position with easy handling.
Productivity
Rapid alignment of workpieces
Optimum ergonomic positioning offers maximum productivity
One set-up for lifting, tilting and rotating
Reduced down time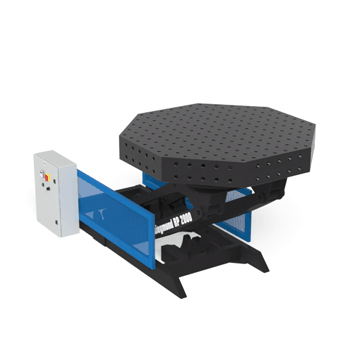 Ergonomics
Convenient access to components delivers the best product performance
Reduced risk of repetitive strain injury
Quality
Improved quality with flexible positioning (flat position)
Improved quality through maximum access
Technical Characteristics
Incl. manual control (wired), additional controls available for an extra charge
Hydraulic rotation of the clamping plate
Tilting range up to 95° (optional up to 140°)
Hydraulic height adjustment and tilt function
Further Details
Large working area, low design height
Optional rotatable ground connection
Optional rotation of the clamping plate with electric drive (still hydraulic height adjustment and tilt function)
Manual control (wired)
The manual operation can be inserted into the holder and placed in a desired location. For easy handling, the manual control can be removed at any time. The control buttons of the wired hand operation allow you to manually adjust the positions.